GSAS Embedded Mental Health Services
Graduate students have exclusive access to a variety of free mental health services and programming through the GSAS Embedded Mental Health program. The GSAS Embedded Mental Health office is located in the McDougal Graduate Student Center in Founders Hall. 
Services offered
Confidential drop-in therapy appointments for brief treatment and consultation. Students may also use drop-in sessions as interim support while getting connected to long-term care. 

Please note, drop-in appointments are not a substitute for crisis services. Students experiencing an emergency or in need of immediate support should use Mental Health & Counseling's 24/7 on-call service at 203-432-0290 or call 911.

Group therapy to address common mental health concerns and shared identities among GSAS students.
Interactive workshops on mental health and graduate school topics.
GSAS Embedded Mental Health Clinician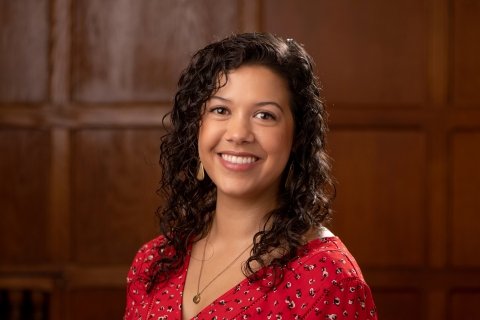 Dr. Eva Wilson completed a bachelor's degree in Psychology at Yale, followed by a master's and doctorate degree in Counseling Psychology from Boston College. She completed her clinical internship and postdoctoral fellowship at the University of Pennsylvania's counseling center. Dr. Wilson has worked in university counseling centers and community mental health settings, providing individual and group therapy for adolescents and adults of all ages. She is passionate about supporting students from marginalized backgrounds and specializes in issues of race and racial identity. Her clinical approach is collaborative, client centered, social justice oriented, and culturally informed. As a clinician, she tailors her approach to help individuals explore their identities, cultivate self-compassion, identify and manage their emotions, better understand their relationships and communicate their needs, and cope with distressing or traumatic experiences. Through her work, she aims to empower students in navigating challenging emotions, relationships, and broader systems.
Featured Resource
https://yalehealth.yale.edu/directory/departments/mental-health-counseling
Yale Mental Health and Counseling provides a full range of free mental health services to Yale Students. To access individual therapy, medication management, and/or group therapy, students should call Yale Mental Health and Counseling at 203-432-0290 and schedule an intake appointment. Students in urgent need can call 24/7 to speak with an on-call clinician.
https://sharecenter.yale.edu/
SHARE provides crisis support, advocacy, and referral to on-going care for all members of the Yale community dealing with sexual misconduct of any kind, including sexual assault, sexual harassment, stalking, intimate partner violence, and more. SHARE also offers on-going counseling for students (undergraduate, graduate, and professional) focused on processing issues related to sexual misconduct.
https://chaplain.yale.edu/
The Chaplain's Office at Yale supports students from all faith traditions as well as students who don't identify with any specific tradition. In addition to building community, the Chaplain's office is available to provide pastoral care and grief resources to students.
Additional Mental Health & Behavioral Health Resources
Yale New Haven Hospital Long Term Care Clinic provides weekly insight-oriented psychotherapy. Students must get a referral from Mental Health and Counseling.
Yale Clinical Psychology Department Training Clinic is a low-cost resource for individual and group therapy. Call 203-432-4520 or email the clinic at ypdc@yale.edu for more information.
Yale Well Initiative provides wellness information, resources, and opportunities for all students at Yale, including student wellness grants. 
Student Health Education services at Yale Health can help you choose a healthier lifestyle and better quality of life. They can work with you on smoking cessation, improving sleep, having safer sex, and strengthening your time management skills.
The Good Life Center is the official student wellness center of Yale University and is supported by the Yale Well Initiative. 
Smoking Cessation and Tobacco Free Yale supports the Yale community through programs geared towards helping you quit tobacco. Most public areas on the Yale campus are Tobacco Free or are seeking to develop Tobacco Free policies.
Mindfulness & Meditation at Yale Health can help you master these life-enhancing skills.
Resource Category
Health & Wellness
Accessing health and wellness resources is an important part of supporting your success during graduate school. Yale provides physical healthcare and mental healthcare, both through Yale Health and embedded within the graduate school of arts and sciences. There are also wellness resources available in the form of various offices and services around campus.