Alumni

Alumni of the Yale Graduate School of Arts and Sciences teach and conduct research in virtually all the world's most distinguished universities and serve in leadership roles in many non-academic settings. There are now over 30,000 living alumni of the Graduate School.
The Yale Alumni Association provides a number of resources to help alumni continue to participate in the Yale community, not only by remaining connected to their colleagues, but also by becoming involved in the professional development of new generations of scholars who graduate each year from Yale. The Office of Career Strategy also invites alumni to speak to graduate students about career opportunities in non-academic settings. Many alumni support the work of the Graduate School and their own individual departments by making contributions to the Annual Fund.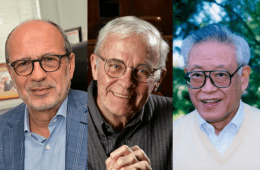 Endowed fellowship opens doors and honors inspiring mentorship
Recognizing the vital contributions of doctoral scholars, Bert Eshaghpour '79 PhD and Jacqueline Eshaghpour endowed a graduate fellowship fund to benefit students from China studying the physical or biological sciences. In addition to providing critical support for graduate students and their transformative research, this fellowship honors the legacies of Professors Jui H. Wang and Donald Crothers.
---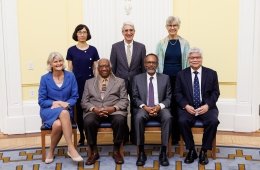 Four graduate alumni receive 2023 Wilbur Cross Medals
The award honors alumni of the Graduate School of Arts and Sciences for exceptional work in scholarship, public service, teaching, or academic administration.
---
October 2023 Alumni Newsletter
Wilbur Cross Medalists, Yale Medalist, Blackhawk Pilot & PhD candidate promoted and more news from campus
---
May 2023 GSAS Alumni Newsletter
Three-Minute Thesis winner, Treasury Secretary Yellen '71 PhD visits campus, and more news from campus
---
October 24, 2023: For Humanity Illuminated in Washington, DC
From Ideas to Impact: Developing Leaders to Serve Society: Explore the work being done at Yale and beyond to advance evidence-based solutions to some of society's most urgent challenges.
---
November 9, 2023: For Humanity Illuminated in Boston, MA
What Makes Us Human? Unlocking Secrets of the Brain, Mind, and Behavior: Explore the pioneering work being done at Yale and beyond to accelerate neuroscience research and pave the way for transformative treatments.
---
Continuing in 2024: For Humanity Illuminated
Events will be held in Palm Beach on February 7, Dallas/Fort Worth on April 30, and Seattle on June 14.
---
April 2024: Where Do I Go from Yale?
"Where Do I Go from Yale?" is an annual event hosted by the Yale Graduate School Alumni Association (GSAA); the Graduate School of Arts and Sciences; and the Yale Alumni Association (YAA) Careers, Life, and Yale program. Previous activities have included career panels, discussion groups, and networking. The event taps into the wealth of knowledge and experience of Yale GSAS alums who have gone before you. It is an opportunity to explore career pathways and consider the myriad opportunities available to Yale graduate students. Stay tuned for April 2024 plans.
---