Mental Health Awareness Week at the Graduate School
A Message from Dean Cooley
September 29, 2023 
Dear Graduate Students,
As you may know, next week marks Mental Health Awareness Week. My colleagues and I understand that the journey through graduate school can be both rewarding and challenging, and we are committed to supporting your well-being every step of the way. I write with reminders about the resources available to you during your time at Yale and information about events sponsored by the Graduate School that will take place next week in acknowledgment of Mental Health Awareness Week.
As part of our ongoing efforts to prioritize mental health and well-being within our graduate community, last year we welcomed Dr. Eva Wilson, our first GSAS embedded mental health clinician. Dr. Wilson brings a wealth of experience and expertise to our community, and her approach is rooted in strength-based, person-centered therapy. She can also guide you to other mental health resources on campus, helping you determine the most suitable care for your specific needs.
To schedule a confidential appointment with Dr. Wilson, you can book sessions up to 7 days in advance through her Bookings page. Dr. Wilson also offers groups for students with common concerns or shared identities, as well as individualized programming around specific topics. Please note that Dr. Wilson does not offer emergency or crisis services. Mental health professionals are available 24/7 through Yale Health for urgent situations. Please call the Department of Mental Health & Counseling at 203-432-0290 at any time.
In celebration and acknowledgement of Mental Health Awareness Week, Dr. Wilson has organized a series of events  in collaboration with the McDougal Center, the Office of Graduate Student Professional Development, and the Office of International Students and Scholars. These events aim to promote mental health awareness, foster a sense of community, and provide valuable resources and insights to help you thrive during your graduate studies. You can find all the events and register by logging into Yale Connect and searching for the "GSAS Embedded Mental Health" group.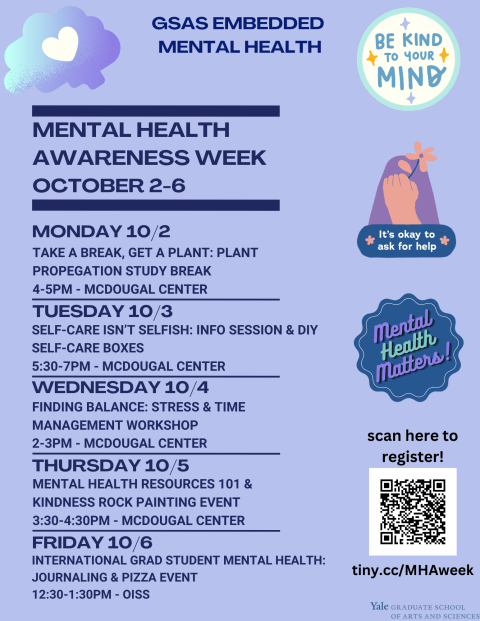 I encourage you to participate in these events, and I hope they lead to meaningful conversations and awareness surrounding mental health. Your well-being is important to us, and we are here to support you in every way we can.
Warm regards,
Lynn Cooley
Dean, Graduate School of Arts and Sciences
Vice Provost for Postdoctoral Affairs
C.N.H. Long Professor of Genetics
Professor of Cell Biology and of Molecular, Cellular & Developmental Biology